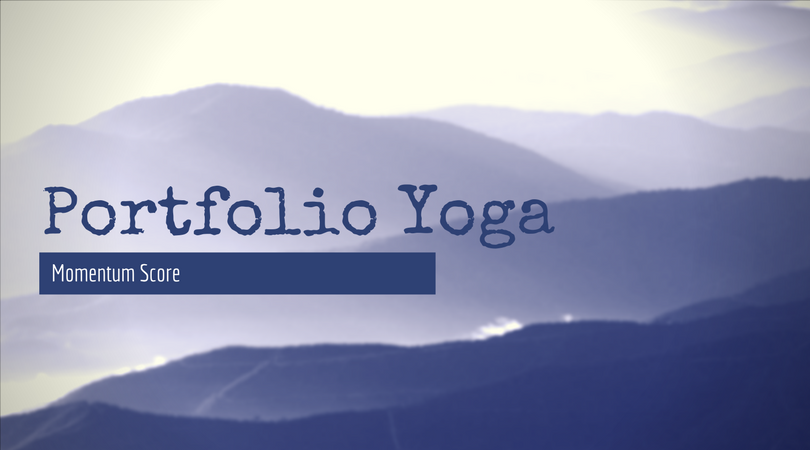 Momentum as a Investment Strategy is fairly old with several research papers coming out for decades now since the phenomenal research starting with Stattman (1980). Stocks with high positive momentum (high 6- to 12-month past returns) outperform stocks with low momentum (Jegadeesh and Titman (1993), Asness (1994).
This table shall provide you with the current list of Momentum Stocks. A filter to the stock price being above 200 EMA has been added to eliminate stocks that are below the 200 EMA and hence of doubtful momentum quality.
The Table below will be updated on a irregular basis and is provided as a Educational tool to get a understanding of where a stock falls in the Momentum Index. None of the stocks are recommended as Buy / Sell.
The Momentum Score is based on a Modified Sharpe Ratio. Nothing exotic, but back-test has shown, it works.
Portfolio Yoga MomentumScore
HEG
23/03/2018
986.27
3,210.95
1,322
1
GOACARBON
23/03/2018
893.15
865.55
685
2
IBVENTURES
23/03/2018
857.11
254.85
428
3
GRAPHITE
23/03/2018
828.20
739.85
557
4
BEPL
23/03/2018
804.89
162.20
525
5
JINDWORLD
23/03/2018
738.44
765.30
422
6
LUXIND
23/03/2018
732.64
1,650.50
144
7
POLARIS
23/03/2018
699.18
472.65
167
8
MINDAIND
23/03/2018
676.65
1,048.80
144
9
GPIL
23/03/2018
674.64
443.15
349
10
VENKEYS
23/03/2018
673.51
3,840.75
368
11
DBL
23/03/2018
671.83
985.35
185
12
HSCL
23/03/2018
661.64
147.95
238
13
RAIN
23/03/2018
637.17
373.40
271
14
AUTOAXLES
23/03/2018
620.13
1,431.35
132
15
GILLETTE
23/03/2018
618.79
6,417.90
54
16
SUNTECK
23/03/2018
610.49
400.30
135
17
AVANTIFEED
23/03/2018
608.52
2,165.25
197
18
TEAMLEASE
23/03/2018
608.44
2,117.00
127
19
PHILIPCARB
23/03/2018
605.07
992.40
225
20
EMAMIINFRA
23/03/2018
602.92
251.95
300
21
SHAKTIPUMP
23/03/2018
597.89
520.70
192
22
ADANITRANS
23/03/2018
591.08
191.60
200
23
GRAVITA
23/03/2018
583.26
158.00
171
24
KEC
23/03/2018
576.63
385.95
125
25
LTI
23/03/2018
572.46
1,349.25
90
26
BRITANNIA
23/03/2018
571.40
4,839.65
49
27
MASTEK
23/03/2018
565.36
535.65
202
28
JUBLFOOD
23/03/2018
564.43
2,277.05
106
29
BOMDYEING
23/03/2018
563.63
239.45
237
30
PPAP
23/03/2018
553.47
520.20
142
31
SANWARIA
23/03/2018
553.33
17.25
288
32
GNA
23/03/2018
551.12
431.80
123
33
HINDUNILVR
23/03/2018
549.83
1,301.65
44
34
NIITTECH
23/03/2018
548.89
893.80
110
35
JMCPROJECT
23/03/2018
548.65
538.00
132
36
ACE
23/03/2018
539.38
164.50
206
37
SAREGAMA
23/03/2018
538.62
660.10
211
38
DEEPAKNTR
23/03/2018
536.72
251.00
115
39
RADICO
23/03/2018
531.11
345.65
172
40
STRTECH
23/03/2018
530.25
314.60
153
41
IFBIND
23/03/2018
527.34
1,211.00
96
42
HIL
23/03/2018
527.04
1,496.20
117
43
VMART
23/03/2018
521.43
1,899.15
130
44
LAXMIMACH
23/03/2018
515.77
6,609.50
72
45
NOCIL
23/03/2018
513.40
188.35
117
46
INDIAGLYCO
23/03/2018
508.85
440.85
188
47
PGHH
23/03/2018
502.89
9,252.85
36
48
MIRCELECTR
23/03/2018
502.70
43.15
231
49
VBL
23/03/2018
492.16
601.80
72
50
KEI
23/03/2018
491.34
362.75
112
51
MANINDS
23/03/2018
490.01
120.00
156
52
TITAN
23/03/2018
489.57
895.05
93
53
HDFCBANK
23/03/2018
489.49
1,841.55
29
54
VISAKAIND
23/03/2018
486.11
640.00
148
55
TFCILTD
23/03/2018
480.72
151.75
124
56
GODREJPROP
23/03/2018
480.67
725.60
85
57
WELENT
23/03/2018
476.83
149.20
123
58
TATAGLOBAL
23/03/2018
475.31
257.90
78
59
MARUTI
23/03/2018
472.39
8,607.25
39
60
3MINDIA
23/03/2018
472.22
19,216.85
74
61
ENDURANCE
23/03/2018
469.24
1,178.55
69
62
CHAMBLFERT
23/03/2018
467.78
164.10
103
63
HDFCBANK-IL
23/03/2018
465.19
1,886.00
132
64
PURVA
23/03/2018
464.67
137.70
138
65
RKFORGE
23/03/2018
451.33
707.10
73
66
ASTRAL
23/03/2018
449.36
862.85
57
67
GOLDINFRA
23/03/2018
449.32
181.95
159
68
V2RETAIL
23/03/2018
447.55
422.20
114
69
SUNFLAG
23/03/2018
443.08
78.50
114
70
GAEL
23/03/2018
442.00
242.05
122
71
FRETAIL
23/03/2018
439.14
542.10
103
72
SURYAROSNI
23/03/2018
437.85
372.00
102
73
MINDTREE
23/03/2018
437.79
782.75
65
74
SOLARINDS
23/03/2018
434.91
1,003.75
37
75
MAITHANALL
23/03/2018
433.27
800.00
100
76
HEXAWARE
23/03/2018
428.43
377.15
69
77
IIFL
23/03/2018
426.17
710.50
80
78
OMAXE
23/03/2018
423.31
222.60
32
79
GMBREW
23/03/2018
421.67
970.40
104
80
ASHOKLEY
23/03/2018
418.46
142.05
56
81
VIPIND
23/03/2018
415.90
312.95
79
82
GUFICBIO
23/03/2018
409.64
110.30
99
83
APLAPOLLO
23/03/2018
409.30
1,885.20
67
84
MINDACORP
23/03/2018
406.84
175.55
91
85
KNRCON
23/03/2018
406.27
288.25
59
86
EVERESTIND
23/03/2018
403.44
463.15
99
87
PRAKASH
23/03/2018
402.44
169.75
119
88
JAMNAAUTO
23/03/2018
401.54
78.05
84
89
JCHAC
23/03/2018
401.35
2,465.05
64
90
ISFT
23/03/2018
398.94
656.05
93
91
VOLTAS
23/03/2018
397.72
604.25
55
92
KALPATPOWR
23/03/2018
397.62
459.75
57
93
COROMANDEL
23/03/2018
396.35
519.95
61
94
TIRUMALCHM
23/03/2018
396.00
1,709.60
92
95
KPIT
23/03/2018
389.80
219.70
62
96
SASKEN
23/03/2018
385.18
664.00
70
97
QUESS
23/03/2018
380.88
1,051.15
53
98
RELIANCE
23/03/2018
380.18
893.90
37
99
KOLTEPATIL
23/03/2018
379.55
294.90
98
100
GUJALKALI
23/03/2018
378.51
708.85
73
101
BBL
23/03/2018
377.14
1,476.80
72
102
JSWSTEEL
23/03/2018
376.61
286.00
49
103
BALKRISIND
23/03/2018
376.36
1,064.75
51
104
ESCORTS
23/03/2018
376.06
795.85
55
105
TVTODAY
23/03/2018
375.46
498.20
94
106
FLFL
23/03/2018
374.46
386.10
76
107
CHOLAFIN
23/03/2018
374.18
1,389.00
44
108
RAMKY
23/03/2018
373.71
179.35
108
109
SONATSOFTW
23/03/2018
373.01
298.80
65
110
BASF
23/03/2018
372.12
1,962.60
63
111
GEPIL
23/03/2018
368.23
861.05
47
112
BAJAJELEC
23/03/2018
364.08
532.15
73
113
DALMIABHA
23/03/2018
363.74
2,739.00
43
114
BAJFINANCE
23/03/2018
360.62
1,685.30
45
115
SUNDRMFAST
23/03/2018
357.05
557.50
50
116
MPHASIS
23/03/2018
356.24
835.30
41
117
SDBL
23/03/2018
355.31
228.15
87
118
KRIDHANINF
23/03/2018
354.86
101.85
88
119
WHIRLPOOL
23/03/2018
351.67
1,480.45
39
120
INDUSINDBK
23/03/2018
342.34
1,749.50
26
121
IGPL
23/03/2018
341.56
638.40
74
122
PHOENIXLTD
23/03/2018
339.45
600.70
53
123
NESTLEIND
23/03/2018
339.23
7,793.80
25
124
NELCO
23/03/2018
337.91
143.90
85
125
VSTTILLERS
23/03/2018
335.96
2,607.90
42
126
PIDILITIND
23/03/2018
335.73
902.20
29
127
LTTS
23/03/2018
335.28
1,216.10
57
128
TVSELECT
23/03/2018
334.55
340.95
90
129
CYIENT
23/03/2018
334.35
659.90
42
130
MERCK
23/03/2018
334.24
1,512.25
49
131
NUCLEUS
23/03/2018
333.56
399.50
59
132
TRENT
23/03/2018
328.44
341.75
40
133
BALAMINES
23/03/2018
327.65
573.95
66
134
JINDALSTEL
23/03/2018
322.51
213.75
64
135
BATAINDIA
23/03/2018
322.42
709.05
34
136
SHOPERSTOP
23/03/2018
321.92
532.05
55
137
FINCABLES
23/03/2018
321.74
632.05
37
138
DELTACORP
23/03/2018
320.19
286.25
68
139
EIHOTEL
23/03/2018
320.03
160.30
49
140
NAUKRI
23/03/2018
316.75
1,230.50
46
141
IGL
23/03/2018
314.55
282.00
35
142
KOTAKBANK
23/03/2018
311.18
1,038.80
22
143
BIOCON
23/03/2018
307.71
571.20
53
144
PAGEIND
23/03/2018
306.47
20,562.50
40
145
INDIGO
23/03/2018
306.28
1,247.10
35
146
NRBBEARING
23/03/2018
305.86
150.50
44
147
SADBHAV
23/03/2018
300.91
389.25
34
148
AARTIIND
23/03/2018
296.89
1,053.25
36
149
BHARATFORG
23/03/2018
296.64
690.30
33
150
Generated by wpDataTables